Employee orientation
Congratulations on accepting your new position at Dead Last Delivery.
First, you should be aware that employees are without exception required to provide or purchase their own equipment. The company will not reimburse any expenses.
Company equipment
You'll need to buy Dead Last Delivery to play the game. (Unless you just did at Comics X Games @ TCAF 2019! <3)
The game box includes:
4 Character Cards
4 Sticker Sheets
7 Delivery Postcards
7 Route Postcards
12 Grace Tokens
1 Six-Sided Die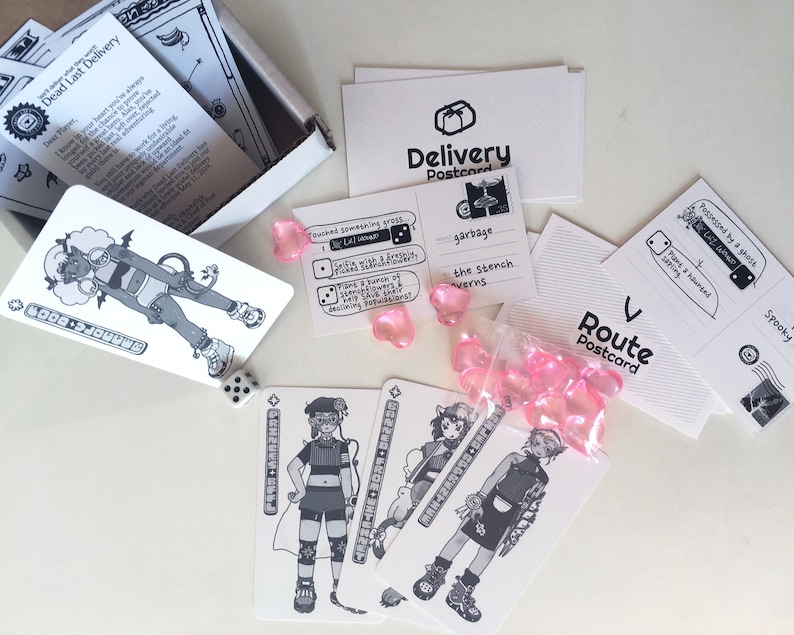 Other equipment
You have go out and get this other stuff yourself.
How to use this website
All employees must familiarize themselves with the company website.
If this is your first time playing, you can play through your first game while reading the rules. Just share the guide, so everyone can read along together.
Blue text should always be clicked or tapped to reveal extra instructions. If you don't do it you'll probably be missing some very crucial information!
Very crucial information
Okay, this one wasn't that crucial. But don't forget to keep an eye out for text like this.
You can close these information boxes by clicking or tapping again.
Your shift is about to start...
To play, you must have all your equipment in order! Each player needs their own character card and you need everything listed above.
Dead Last Delivery is a card game for 1-5 players about growth, betrayal, arts & crafts.
Each shift you work is an opportunity to risk stress and scars for a shot at achieving great things, and fulfilling your dreams. What can you accomplish before you retire?